Dudley Resources Merger Advances Virtual Auto Auction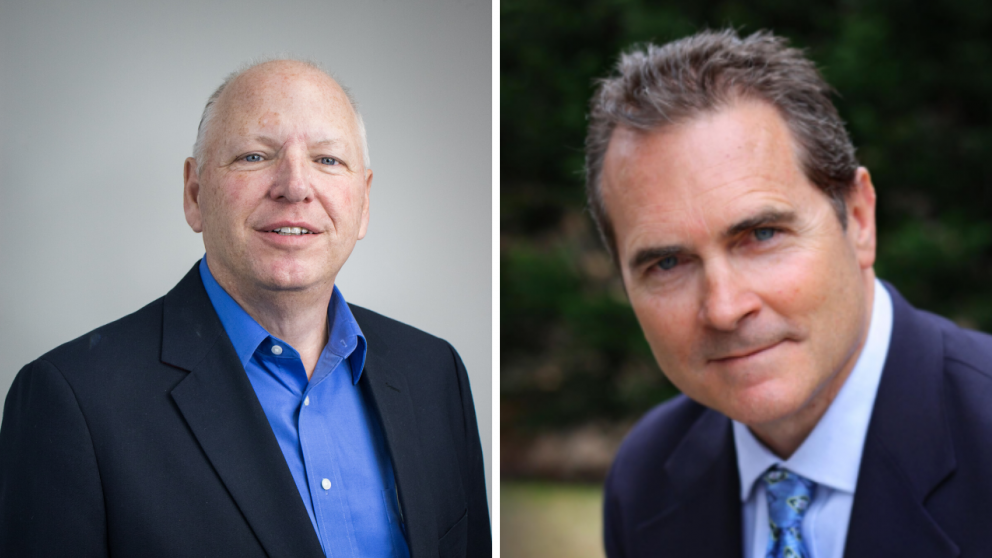 Dudley Auctions has teamed with Bruce McGeorge of McGeorge Auto Auction to develop the Virtual Auto Auction
Tim Dudley, President of Dudley Resources has teamed up with Bruce McGeorge of McGeorge Auto Auction to bring to Richmond the Virtual Auto Auction, open to the both dealers and to the public.
This innovative way to sell automobiles is a trend likely to be commonplace within the next decade, but the coronavirus has sped up the need for change in the way business is being managed in the auction world as in many other industries today. We now have skills and technology to run a simulcast auction sale online and be able to sell vehicles, heavy equipment, RVs, boats etc. all over the world. Our first Simulcast Virtual Auction was held on May 12 with approximately 100 tractors and trailers from multiple consignors. This sale did not require any bidders to come to a specified location to place their bids, no one had to drive or fly to the auction site, no crowded sale, no health risk of any kind. All the information needed was provided on our website, descriptions, photos, videos, and condition. The key to successful online sales is having full and accurate information made available to buyers. Our multiple marketing and auction platform exposed these assets to more than 3.6 million people all over the world and we had well over 250 bidders on these items, resulting in a remarkably successful sale.
Dudley states, "We feel this is the future of the auto auction business and we are on the cutting edge by bringing it to Richmond. Our plan is to bring these Virtual Auction sales to cities all over the United States. In addition to the significant health benefits these bring, given the current Covid-19 situation, the biggest benefit to the sellers is that they don't need to bring the vehicles to an auction site, no transportation or storage costs, which is a tremendous savings to the sellers". Major auto sellers such as Car Dealers, Credit Unions, Banks, Fleet and Lease vehicles can be sold from anywhere and then once sold, the buyers can be notified of a pickup location and time by appointment.
Tim Dudley, President of Dudley Resources has more than 40 years of experience in the automobile auction industry both in the North Carolina and the Virginia markets. He brings extensive knowledge and understanding of the industry and automobile marketplace. Dudley has extensive and wide-ranging auction experience, having conducted transactions in more than 20 states, selling automobiles, equipment, office buildings, manufacturing facilities, golf courses, racetracks, shopping centers, timberland, resort properties, residential and commercial real estate and more. Dudley is a past president of the Virginia Auctioneers Association, Virginia State Champion Auctioneer, and member of the VAA Hall of Fame. He was awarded top 20 national Advisor within the national SVN commercial agent network from 2013-2018 and received a CoStar Power Broker award as a Top Broker in the Richmond market.
Bruce McGeorge also brings 40 years of experience to the table, he was involved with the establishment of the wholesale business for CarMax, a fortune 500 company Auto Retailer with dealerships nationwide. Following CarMax, McGeorge, launched a wholesale business automobile branch for one of the largest wholesale companies in the United States, selling 50,000 cars a year. Bruce stated "This is a great opportunity for the car business and in doing a joint venture with Tim Dudley, with his auction knowledge as well as his experience in the auto industry, we are going to bring innovation to the automobile auction business"
The benefits to sellers they will no longer have to transport cars to a set location and then wait for the auction sale to take place run the car through the building. This has multiple benefits including significantly less cost, reduced liability, as well as the safety of the workers as they are not being exposed to the public and any associated health risk. Our next sale Virtual Auto Auction Sale will take place June 16. If you have a vehicle that you would be interested in selling, please contact us 804-709-1954.
---