Dudley Resources Triumphs Over Competition at Virginia Auctioneers Association Convention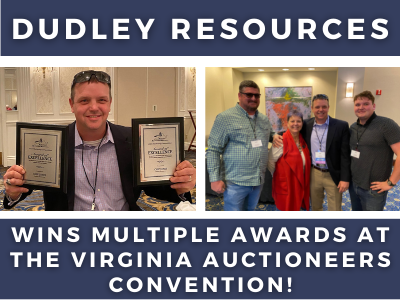 Richmond, Virginia, January 24, 2022 — Dudley Resources emerged victorious from the 2022 Virginia Auctioneers Association (VAA) Convention winning multiple marketing awards. Chip Jones, Senior Advisor, took home Marketing Awards of Excellence for Best in Show and Best Digital and Social Media at the convention held on January 14-15 2021 in Roanoke, VA.
Marketing award contestants are judged by a panel on multiple criteria including content and results. All entries must be submitted by the December 1st deadline and comply with Virginia Auction Advertising Laws. Jones submitted an email campaign from Dudley Resources for the award of Best Digital and Social Media with the goals of raising awareness of auction sales, highlighting company services, and continuing brand recognition for the company. This email campaign won both this award and Marketing Award of Excellence for Best in Show in 2022.
"We are unbelievably proud to receive this award from the VAA," said Jones. "As a Hanover native and part of the Dudley Resources team, I pride myself on adding a personal touch to the environment of virtual auctions. This award showcases all of the hard work that our team undertakes for each and every client through our marketing services."
"Our team had a blast attending this event and are so proud to be an integral part of such an amazing organization," continued Jones. "We look forward to the continuing collaboration and fellowship with VAA members from all over the state. I always have a blast participating in this wonderful convention and receiving this award made this the best convention yet! We can't wait to participate again next year!"
"In recognition of this award, we would like to thank our clients, internal team, and the marketing team at BCreative Co., headed by Bella Metts," said Tim Dudley, CEO of Dudley Resources. "As we have grown over the past 3 years, Bella has helped us make great strides in our pursuit of innovative and cutting-edge marketing to blend client relations with auction success. This growth has allowed us to conduct business with buyers and sellers across 6 continents — achieving incredible results worldwide on the sale of real estate, equipment, and automobiles. We are honored to have received this award, and we plan to continue our pursuit of innovation — bringing the very best auction sales to buyers and sellers worldwide."
To read more about the VAA Convention and the 2022 Marketing Awards, visit their website at https://www.vaa.org/.
---